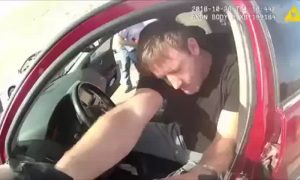 Former UFC fighter Stephan Bonnar was arrested and charged with a DUI, and body camera footage from the Nevada Highway Patrol shows the moment it happened.
Police had received several calls about a red Cadillac speeding and making unsafe lane changes on Interstate 15, according to KTNV on Oct. 29. The vehicle was going speeds of 90 mph and more.
Troopers were able to locate the car stopped on the side of the highway about 10 miles from downtown Las Vegas. Police said they smelled alcohol on the former UFC star, whose nickname is the "American Psycho."
KTNV reported that several motorists had the car surrounded when police got there. He had to be physically restrained and was incoherent.
When he woke up, he resisted arrest, Highway Patrol officials said.
He was taken into custody and was booked into the Clark County Detention Center on a DUI charge and other offenses.
Police also found an unloaded AR-15 rifle along with an empty vodka bottle and pills, KTNV reported.
Bonnar, 41, has two prior DUI arrests, including one in April 2015 and one in June 2016.
Bonnar, a light-heavyweight fighter featured in the first season of "The Ultimate Fighter," was inducted into the UFC's Hall of Fame in 2013. He hasn't fought in the UFC or in MMA since 2014.
Katie Dyer, of Las Vegas, told the Daily Mail that Bonnar allegedly "didn't stop or wait or anything, he came straight out into the traffic and he was very lucky."
"We have radios so we said, 'Who is calling the police?' One of our people caught up to him and he seemed to be laying down," she said. Later, "We carried on and boxed our Jeeps around him. There were six of us. We slowly stopped with the box around him," she said.
CRe: https://www.theepochtimes.com/video-former-ufc-fighter-stephan-bonnar-physically-restrained-in-dui-arrest_2705616.html