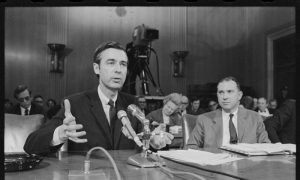 A crew member who won an Emmy Award died on the set of Tom Hanks' forthcoming movie about Mr. Rogers, according to reports on Oct. 12. He was 61.
James Emswiller, who won the award in 2015, suffered a heart attack and fell off a balcony to his death, TMZ reported. He was taking a smoke break when it happened.
The movie "You Are My Friend" is about Fred Rogers, the longtime kids' TV show host. Hanks is playing Rogers in the film.
Hanks was on the set on the night of Oct. 11 in Mount Lebanon, Pennsylvania, when Emswiller fell, according to the TMZ report. 
Emswiller was alone when he fell off the balcony. Other crew members heard the incident unfold.
Tom Hanks is Mister Rogers, coming to a neighborhood near you October 2019. pic.twitter.com/2TP3eiPUCx

— Sony Pictures (@SonyPictures) September 27, 2018
A nurse on the set attempted to assist him. When emergency service personnel arrived on the scene, he was "in full cardiac arrest," the report stated.
He was pronounced dead three hours later at a nearby hospital.
#BREAKING: Mt. Lebanon Police say they think James Emswiller stepped outside for a smoke break when he may have suffered a heart attack and fell from the balcony.

The fall happened around 7:28 in Mt. Lebanon. His time of death was 10:36 at the hospital.@KDKA pic.twitter.com/rzvOKy7pSq

— Meghan Schiller (@MeghanKDKA) October 12, 2018
Allegheny County officials confirmed to ABC News that Emswiller fell around 7:30 p.m., and Mount Lebanon Police said he fell over a brick wall at an apartment building.
"Basically, he appears to have suffered from a medical emergency while on the balcony," Lebanon Chief of Police Aaron Lauth told People magazine. "He was taking a break and smoking a cigarette when he fell."
"He fell from the second story of the building. Other crew members were inside the building, but not on the balcony. They noticed he wasn't there and saw him down on the ground," he added.
He won an Emmy for Outstanding Sound Mixing for a Limited Series for HBO's "Bessie."
The Hanks movie is slated to be released in October 2019 via TriStar Pictures. Rogers died in 2003 after hosting "Mister Rogers' Neighborhood" for decades on public television.
CRe: https://www.theepochtimes.com/mr-rogers-crew-member-james-emswiller-dies-on-set-after-falling-reports_2688090.html